The Fallen

Name: Allocen
About: In demonology Allocer (also spelled Alocer or Alloces) is a demon whose title is Great Duke of Hell, and who has thirty-six legions of demons under his command. He induces people to immorality and teaches arts and all mysteries of the sky.
He is described by Johann Weyer as appearing in the shape of a knight mounted on an enormous horse. His face has leonine characteristics; he has a ruddy complexion and burning eyes; and he speaks with much gravity. He is said to provide good familiars, and to teach astronomy and liberal arts. Allocer is often depicted riding a horse with dragon legs. (info via Wikipedia)
---
Forms: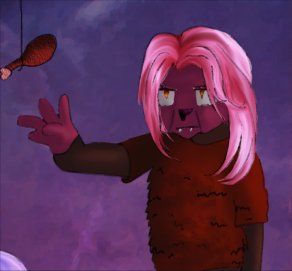 "Energy Saving Mode"- the only form Allocen has been seen clearly in, thus far. He seems very interested in food.
---

---

Name: Armaros
About: Armaros was the eleventh on a list of 20 leaders of a group of 200 fallen angels called Grigori or "Watchers" in the Book of Enoch. The name means "cursed one" or "accursed one". taught the resolving of enchantments to humans. (info via Wikipedia)
---
Forms: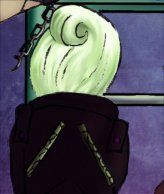 "Energy Saving Mode"- Only Armaros' back has been seen thus far, in energy-saving mode

"Angel"- This silhouette is of Armaros as an unfallen angel, during its days as a Grigori. Seen as Kokabiel was briefly telling Angelique his past.
---

---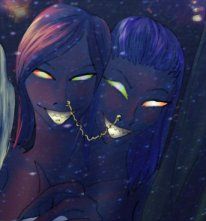 Name: Enepsigos
About: DEMON in the shape of a woman with two heads. Enepsigos has countless other names and can shape-shift into a goddess and other forms. Most often, she takes three forms because she hovers near the Moon (which has three forms: waxing, full, and new). Enepsigos is conjured up as Kronos, Greek god of time. In the Testament of Solomon, Enepsigos is bound by King SOLOMON with a triple-link chain and is made to prophesy. She predicts that Solomon's kingdom will be divided and the Temple of Jerusalem will be destroyed by the kings of the Persians, Medes, and Chaldeans. Solomon does not believe Enepsigos and has her bound in unbreakable chains. (Info via demonology academia website)
Enepsigos is the demon currently bound to Cassia, left behind after Paska rejected her as a host. The Stockard Foundation wishes to seek her name, with the intent to exorcise her from Cassia, but has thus far been unsuccessful.
---

---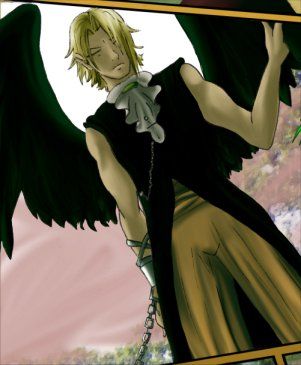 Name: Kokabiel
About: considered the 'angel of the stars', is a fallen angel, the fourth mentioned of the 20 Watcher leaders of the 200 fallen angels in the Book of Enoch. His name is generally translated as "star of God", which is fitting since it has been said that Kokabiel taught astrology to his associates.
According to The Book of The Angel Raziel, Kokabiel is a holy angel; in other apocryphal lore, however, he is generally considered to be fallen. Kokabiel is said to command an army of 365,000 spirits.
---
Forms: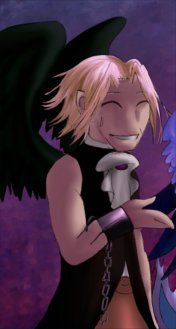 "Energy Saving Mode"- The most common form we see Kokabiel in. Also provides exposition in this form.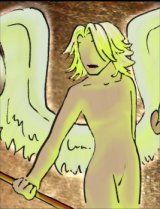 "Angel"- Seen when he tells Angelique of his history and how he fell.
---
Fun Facts
Because of the conflicting information on Kokabiel's state as being fallen or pure, this is reflected in the story with Kokabiel being the most benevolent and sympathetic of the fallen.
Tamiel likes to call him "Ko-Ko", which Kokabiel hates.
---

---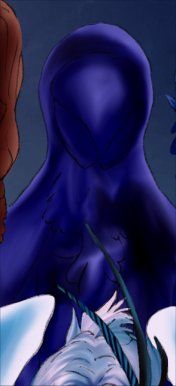 Name: Malpas
About:A grand-president of hell who governs 40 legions, Malphas appears as a raven, or in human form with a raucous voice. He builds citidels and impregnable towers, breaks down enemy barricades, finds good workers, gives familiars, and will receive sacrifices but deceive the sacrificers. can destroy the enemies' desires or thoughts (and/or make them known to the conjurer) and all what they have done.
In the story, Malpas is the 'battery' behind Paska's Desire Space, and it is his powers that allow her to do what she does.
---
Forms: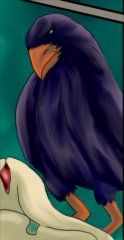 "Energy Saving Mode"- Malpas has been seen several times in this form. He appears in the first chapter, to 'eat' what remained of Mon-Mon, but proclaimed that he couldn't, because there was no soul.
---
Fun Facts
Malpas' true form has only been seen in dim silhouette behind Paska, during Penemuel's exposition about the Desire Space and how it differs from pocket dimensions.
Other than appearing when Paska destroyed Mon-Mon, Malpas' only other appearances have him doing 'bird-like' things in the background.
---

---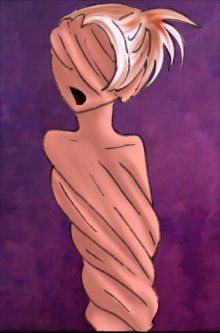 Name: Penemuel (also known as Penemue)
About: a watcher in Enochian lore. He is a curer of stupidity in man, mentioned in Bereshith Rabba. (info via Wikipedia) Penemuel taught man how to read and write, which corrupted and led to Penemuel's fall. According to the Book of Enoch, Penemuel taught man these things out of passive aggressive hate towards man, because it knew that it would inevitably lead man towards sin.
---
Forms:

"Angel"- seen only in silhouette when Kokabiel is telling Angelique of his past.
---
Fun Facts
Penemuel has only been clearly seen in 'energy-saving mode' in the story.
Penemuel's appearance is part of its punishment, it is agonizingly twisted in an impossible way, so that it can never hold a pen or read again. All it can do is speak, and usually it talks int a loud voice.
---

---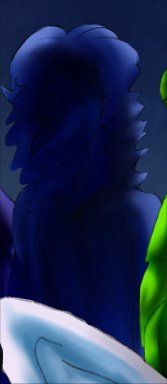 Name: Tamiel
About: the fifth mentioned of the 20 watcher leaders of the 200 fallen angels in the Book of Enoch. Tamiel was attributed as a teacher of astronomy. He also taught "the children of men all of the wicked strikes of spirits, [the strikes of] demons, and the strikes of the embryo in the womb so that it may pass away (abortion), and [the strikes of the soul], the bites of the serpent, and the strikes which befall through the noontide heat. (Info via Wikipedia)
---
Forms:

"Angel"- seen only in silhouette when Kokabiel is telling Angelique of his past.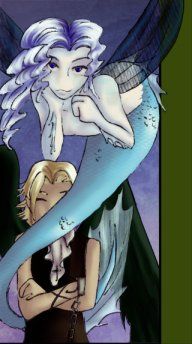 "Energy-Saving Mode"- The only clear representation of Tamiel in the story thus far. He seems to appear to be a foil to anything Kokabiel tries to do.
---
Fun Facts
Because Tamiel is also related to astrology, that has bled into the story as him being attached to Kokabiel in some form. This could mean that Tamiel took the astrology that Kokabiel taught him, and then passed it on to the humans. (Which would explain Kokabiel's ongoing dislike of him.)
Tamiel is also known as the 'angel of the deep' in some descriptions, and thus is depicted as a mer-creature in the story.
detailed info coming soon