The Places of Pita

---
Pita's Apartment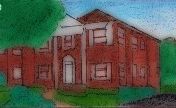 During Season 1, Pita's primary residence was a small, one-bedroom apartment located within walking distance to 'downtown' of her city, and in proximity to Hartwood Park. Initially she had very little furniture other than a bed and bookshelf, but after Beliel moved in, all of this was replaced and added to. While Beliel claims that the new furniture was a gift from her as Pita's 'betrothed', there is in fact no proof to this claim and the origin of the furniture yet remains a mystery.
At the end of Season 1, Pita's slumlord landlord helps put her in financial hell, and she is forced to vacate the apartment.
Residents
Pita Psomi
Hijinx Maier
Buhi
Belinda "Beliel" Certas
Maryanne
Paska
Boon Maier
Fun Facts
Pita's apartment number is 203.
Pita has five neighbors, three on the bottom floor, two others on the upper floor. She's never spoken with them.
Pita didn't have a TV until Beliel's purported gifts. She owned a cardboard display tv she'd found in a dumpster behind a department store.
In chapter 5, page 31; panel 4, the painting on the wall is a real one done by Liz while she was in school.
Rooms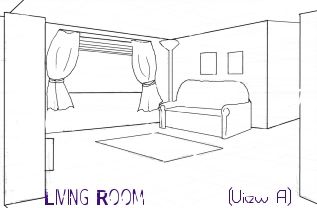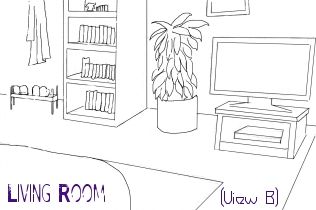 ---
Taro's House

During Season 1, Taro's primary residence is with her mother in an older 2-story home located on the opposite end of town from Pita. Taro's bedroom is the master bedroom, while her mother prefers a smaller room in the front of the house.
Residents
Apple Boba
Taro Boba
Rupert "Moor" Machter
Jack F. Boba
Fun Facts
Taro's bedroom has a balcony
Taro's neighbor constantly watches them from their kitchen window.
Taro's house is actually her grandparents' old home, but was passed on to Apple when they moved to the coast to live in retirement bliss.
Rooms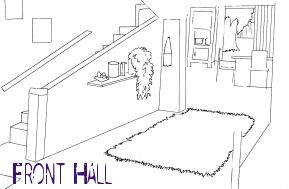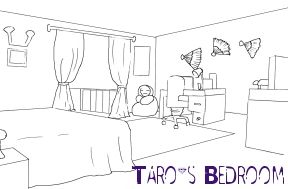 ---
Stockard Manor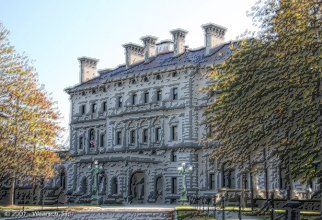 In Season 2, the Stockard Manor becomes the primary residence for the majority of the cast. Located about ten miles from Pita's home city, it is comprised of three floors and houses the entirety of the main Stockard family as well as a few staff. The manor is located on several hundred acres of forest preserve; the main house itself is a mile from the main road. In classic mansion fashion, it boasts it's own greenhouse, a small stable, as well as an indoor fitness center primarily for family use and a mini theater. A small apartment complex located on the grounds houses additional high-tier staff, as well as extended family that has earned favor with the patriarch of the Stockard family. Closer to the road, there is a recreation hall that the Stockards rent out.
The Stockards value their privacy, but they have been known to hire farmers to till a portion of their land for city produce. Sometime in the early 80's, the Stockards funded a small municipal project and had a town hub built on the road outside of their land. This brought several convenience stores, a theater, a few restaurants (mostly fast food), a post office police hub, gas station, and a multi-tenant office building to an otherwise rural area. A bus now runs from the Stockard's municipality (called Stockton) to the main city; this route added on by the patriarch of the Stockard family for the convenience of his staff.
While high-tier staff lives in the Stockard manor proper or on the property, several dozen hired staff comes in from town twice a week to clean, unless a major function is planned. (Pita is considered hired staff, but is an exception.) Hired staff coming in by car can only park in a gravel lot outside of the Stockard grounds, and a golf-cart trolley driven by a security guard takes them inside.
Because of the archaic nature of the manor, tour buses are occasionally allowed onto the Stockard property to view the house from afar. Local children like to believe that the house is haunted, and near Halloween it is common to find teens attempting to sneak on to the grounds. A LARP/Renfest type of convention is held on the grounds for a week in the fall.
The house, although built in the early 1900's, holds many secrets.
Residents
Master Stockard
Melonie Slisson
Aniello Stockard
Porcius Stockard
Bonito Stockard
Kaya Slisson
Angelique Slisson
Cassia Nunez
Spaetzel Cherry
Season 2 additional residents
Pita Psomi
Hijinx Maier
Boon Maier
Belinda "Beliel" Certas
Maryanne
---
Maier Manor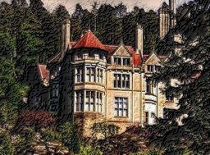 The Maier Manor is located near the very rural village of Dohna, Germany. This is the only home Jinx knew growing up, and was the site of Paska's curse. All that is currently known about the manor is that Jinx's father would invite 'sexual deviants' to live there, and would perform 'therapy' upon them that eventually turned them into Lesser Demons.
The house itself is several stories, and boasts at least a stable and a large, 'otherworldly' garden and greenhouse.
The area was severely damaged during WW2, and it is currently unknown if the house still exists.
Residents
Creed Maier
Rupert "Moor" Machter
Victoria Torrez
Hijinx Maier
Boon Maier
Belinda "Beliel" Certas
Olivia "Owl" Certas
Ratz
Augustus "Gusto" Thomas
Khaled
Paska
Fun Facts
The photos Liz uses of Maier Manor and grounds is those of the real life Victorian manor "Cragside", which was the home of industrialist William Armstrong, located in England.
Dohna does not have a manor, nor had a manor of the Maier Manor's size in it's vicinity in real life, but it was heavily damaged during WW2.
Dohna was picked as the manor's location due to it's proximity to Leipzig University while still giving Jinx's father enough privacy to do what he wants.
Liz has never actually been to Germany, but many of the town background photos she uses were taken by family of Stuttgart specifically for webcomic use.
Originally Liz wanted to use a different house from England as basis for the Maier Manor, called "Hethpool House", but after careful investigation, she discovered the house a lot smaller than she originally thought and wouldn't fit the manor she envisioned.
---
Hartwood Park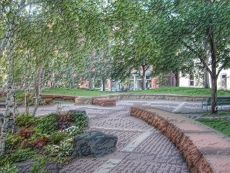 Hartwood Park is a shock of forest in the middle of the downtown of Pita's city. On one side is the hustle and bustle of the city, but on the other is a large river. In the middle of the park is a flooded quarry that has now become green-watered lake. There is half a mile of grassland near the river, that is a popular place for amorous teens to meet due to the unkempt, long grass which provides a measure of privacy for them.
Hartwood Park is the site of many family gatherings, and the sound of children can be heard until late in the afternoon. During the summer there are small events, like a fortune teller's tent, ice cream, sand castle competitions (in a man-made sand pit), fishing derbies and rentable toy boats on the quarry lake. In the winter the pond is conditioned to double as a skating pond, and the park holds igloo and snow-sculpture building contests.
Fun Facts
Hartwood Park is based almost entirely off of a park from Liz's hometown, right down to the nearby river and flooded quarry pond.
Most of the river background shots are of the river that cuts through Liz's hometown.
---
Tagesanbruch Abbey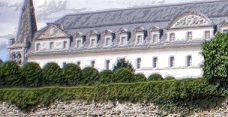 Tagesanbruch Abbey is the place where Beliel and Owl grew up after being abandoned there by their parents. It was a moderately-sized Abbey on the border of Bavaria and Saxony. An oddity for it's time, it housed a co-ed clergy, although was primarily run by the nuns and Mother Superior. It was a self-sufficient community of it's own, having it's own means of growing produce, raising livestock, a windmill, and even an on-site tailor. Locals from the nearby villages would come to participate in a market once a month.
Unfortunately, the abbey perished to arson and no trace of it exists in modern times.
Residents
Belinda "Beliel" Certas
Olivia "Owl" Certas
Khaled
Mother Superior
Sister Lieve
Fun Facts
Tagesanbruch Abbey is fictional, but it's exterior is based off of Pontlevoy Abbey in France.
---
The Dungeon
The Dungeon is a relatively new nightclub in Pita's city. It appeared to spring up overnight, and was an instant hit. It opens it's bar early in the afternoon, and then at night the club scene begins. Once a week the club hosts fetish raves in a special VIP-only basement under the building, while above ground holds a standard club dance floor.
The club was put together by Owl and some of the other denizens of the book, and intended to be a safe haven where they could converge and feed without worry of the Angel Witch. The club is laced with strong magic spells to hide the Lessers in plain sight-normal humans entering the club cannot see or sense their presence even though the Lessers roam freely. The Lessers appear to behave themselves while in the club, most likely out of gratitude to Owl for giving them a place to go and a safe hunting ground to feed at. (The Lessers come out of hiding during the fetish raves and feed.)
The cult formed by Milli calls the club it's base of operations and recruitment facility. Anyone in the cult are taught to see beyond the magic hiding the Lessers, and can perceive them.